By Maria Dugandzic
CNN
CHICAGO, Illinois (CNN) -- The odds were never good for 16-year-old D'Angelo Gardner. His father died of a heroin overdose when he was 9 years old, and by the eighth grade, he was caught up in a gang.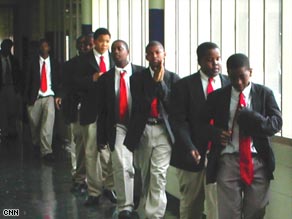 "I had a real bad attitude towards ... everybody. I didn't wanna talk, I didn't wanna do work," D'Angelo recalls. "It was just hard, and I didn't wanna be there."
Growing up in Englewood, one of the city's toughest neighborhoods, the statistics for young black men are grim. Only one in 40 African-American males in Chicago will finish college, and 50 percent will drop out of high school. If that weren't bad enough, guns and gang violence are almost a part of daily life. This year, nearly 30 Chicago Public School students have been shot to death.
But in the center of this impoverished neighborhood, there is hope.
The Urban Prep Charter Academy for Young Men, founded in 2002, has become a haven. The charter school, which is not part of the Chicago Public Schools system, has a mission to prepare young black men for college and promote self-esteem and success. (read more)]]>
<![CDATA[